Welcome to Nori's Sunday Street Team. If you've forgotten what that is, please visit
here
for more information.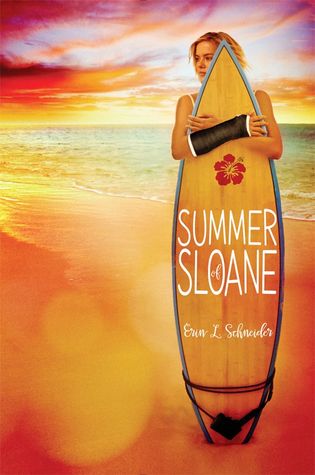 Warm Hawaiian sun. Lazy beach days. Flirty texts with her boyfriend back in Seattle.





These are the things seventeen-year-old Sloane McIntyre pictured when she imagined the summer she'd be spending at her mom's home in Hawaii with her twin brother, Penn. Instead, after learning an unthinkable secret about her boyfriend, Tyler, and best friend, Mick, all she has is a fractured hand and a completely shattered heart.





Once she arrives in Honolulu, though, Sloane hopes that Hawaii might just be the escape she needs. With beach bonfires, old friends, exotic food, and the wonders of a waterproof cast, there's no reason Sloane shouldn't enjoy her summer. And when she meets Finn McAllister, the handsome son of a hotel magnate who doesn't always play by the rules, she knows he's the perfect distraction from everything that's so wrong back home.





But it turns out a measly ocean isn't nearly enough to stop all the emails, texts, and voicemails from her ex-boyfriend and ex-best friend, desperate to explain away their betrayal. And as her casual connection with Finn grows deeper, Sloane's carefree summer might not be as easy to find as she'd hoped. Weighing years of history with Mick and Tyler against their deception, and the delicate possibility of new love, Sloane must decide when to forgive, and when to live for herself.
Rating: 4 Stars
I received a free copy of this book from NetGalley in exchange for an honest review.
Starting this book, I wasn't 100% sure that I would love Sloane. The plot sounded a bit mundane, the characters fairly standard.
While there were some traits that were along the lines of what I would expect from a young adult novel of this sort, I was very happy with how Sloane turned out.
She was so much more than I was expecting. Reading YA, I tend to find that when a girl gets dumped she gets very weepy and pathetic. While she might recover eventually, that initial reaction is so over the top in most cases that I end up hating her.
Sloane, on the other hand, takes matters into her own hands. She hauls off and punches the ass of an ex that she now has and breaks his nose pretty badly. That was a very big cheering for Sloane moment. While she is, of course, upset with the betrayal that her ex boyfriend and her ex best friend (which, btw, is one of the
biggest
betrayals I've read recently), she doesn't go to absolute pieces. She mourns a bit, is angry, and then moves on to her summer and trying to move on with her life in general.
I almost wish that there were photographs spread throughout the book that depicted some of the scenes that Sloane sees while she's in Hawaii. The descriptions were beautiful and really got me into a summer vacation mood (why can't it be summer already?!). Pictures would've complimented the prose beautifully.
This would be a great beach read. Heck, it would be a great read any time, but imagine being able to read this on a beach, any beach, and imagining the tropical paradise that the characters find themselves in.
About the Author:
Erin L. Schneider is native to the Pacific Northwest, attended college in Honolulu - and although Hawaiian - should never be allowed on a surfboard. With more than twenty years in corporate merchandising, she's now a full-time writer living in Seattle with her husband, Neal; their baby boy, Kellan; a rowdy German shepherd named Ronin; and two crazy cats, Ono and Poke. She's a member of both the Pacific Northwest Writers Association and SCBWI, and is also co-founder of the YA Buccaneers.
SUMMER OF SLOANE
is her debut novel, out May 3, 2016 from Disney-Hyperion. Visit Erin online at Erin L Schneider or on Twitter: @ErinLSchneider1. Erin is represented by literary agent Lisa Grubka of Fletcher & Company.
a Rafflecopter giveaway
All pictures, quotes, and videos belong to their respective owners. I use them here solely for the purpose of review and commentary.