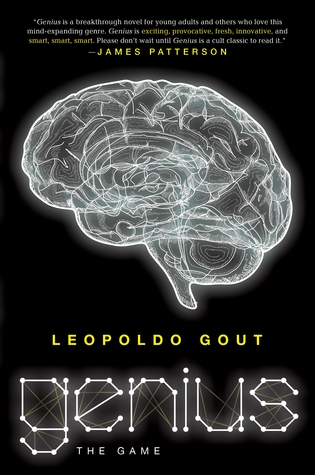 Trust no one. Every camera is an eye. Every microphone an ear. Find me and we can stop him together.

The Game:

Get ready for Zero Hour as 200 geniuses from around the world go head to head in a competition hand-devised by India's youngest CEO and visionary.



The Players:
Rex

- One of the best programmers/hackers in the world, this 16-year-old Mexican-American is determined to find his missing brother.


Tunde

- This 14-year-old self-taught engineering genius has drawn the attention of a ruthless military warlord by single-handedly bringing electricity and internet to his small Nigerian village.


Painted Wolf

-One of China's most respected activist bloggers, this mysterious 16-year-old is being pulled into the spotlight by her father's new deal with a corrupt Chinese official.



The Stakes:

Are higher than you can imagine. Like life and death. Welcome to the revolution. And get ready to run.
Rating: 4 Stars
I received a free copy of this book from NetGalley in exchange for an honest review.
If you like
For the Win
by Cory Doctorow, then I think you will very much enjoy
Genius: The Game
. Genius kids tackling huge problems with little more than their wit and their determination? These kids aren't just smart, they are SUPER smart. They are could take over the world if they wanted to smart, but they aren't jerks about it, which could turn the story in a different direction in a split second.
There were a couple of little things that weren't wrong, exactly, but that didn't work for me. I'll mention them in a minute. There were also a couple of things that, while they seem small in comparison to the rest of the book, bugged me so much. It's like a little itch that becomes the biggest, most annoying itch of your life and you can't scratch it. Those will be below as well.
What I Liked
The diversity: the three main characters are all from different countries and none of them are white. You've got Painted Wolf (Chinese), Rex (Mexican, currently living in US), and Tunde (Nigerian).
The images in the book that depicted the diagrams, schematics, secuirty images, etc.They were cool on the Kindle, but I bet they'd be even cooler on the page.
Tunde leaving his village for the first time. I think it's interesting to see him begin his journey to the Game. While he is brilliant when dealing with schematics and making machines of all kinds, he still finds the wonder of constant running water at the airport a marvel. Watching him transition from a tiny village to enormous advanced cities was strange, but interesting. He was seeing for the first time things that a lot of others take for granted.
The progression of the story was fast paced. It didn't linger too long on unnecessary events, which I appreciated, especially with the high stakes these kids are facing.
Things That Were Slightly Problematic, But Not Big Deals
Tunde's first chapter is a bit strange. His speech pattern is oddly formal, but I think you can find a rhythm after awhile.What I don't know or understand is the italicized sentences. Not being familiar with Nigeria, I can't tell if this is the language spoken there or gibberish.
There's a lot of tech speak in the book that I don't understand as I'm not into coding or scientific pursuits. This made it kind of difficult to tell whether the characters knew what they were talking about or were just babbling.
The contestants, or rather, the variety of their specialties in regards to the game. For all that the creator of the Game talked about bringing together great minds from different disciplines, which there were, the Game itself was geared so that only a select few could actually complete the tasks at hand.
Problems That Were SO Annoying
I'm not sure how Rex got on to the plane to go to the Game. His parents are illegal immigrants and from what I can tell, he is as well. How was he able to board a plane without having any identification to show? A passport, a license, something. Up until that point, there was no mention of his being able to fake such credentials.
Re: Teo - what kind of parents give a three year old a thumb drive as a Christmas present? It's a choking hazard to begin with and is just a really odd choice besides.
This weird jealousy Rex seems to develop after Kiran shows Painted Wolf around the facilities. It seemed really unnecessary and came from out of nowhere. There was no indication prior to it being mentioned that he had any feelings of that sort for her.
Summary
This was a lot of fun to read. It had its confusing moments, but using context clues I was able to move past these. I definitely want to see what else this author can do. I've read similar authors that stuck to this sort of genre and while their books are good, they're all contained within their comfort zone. If Gout can push his limits, I think we can see more fantastic works in the future.
About the Author:
Leopoldo Gout is the producer behind many films including Days of Grace, which A.O. Scott of the New York Times called "a potent and vigorous film." He is also a writer, artist, and filmmaker. Leopoldo is currently involved in various film and television projects including major adaptations of the Alex Cross series, with the author James Patterson and the upcoming film adaption of Middle School: The Worst Years of My Life.
Check out this special quote search. You'll have to check out the other bloggers on the tour to figure out the entire quote. :)
___ ___ ___ ___ ___ ___ ___ ___ ___ ___ ___ ___ ___ ___ ___ ___. ___, ___ me straight in ___ ___, ___ ___, "___ ___ ___ ___, ___ ___. ___ ___ ___ ___ ___ ___ ___ ___ ___ ___ ___ ___ ___ ___ ___ ___ ___ ___ ___ ___ ___ ___ ___ ___ ___ ___."
a Rafflecopter giveaway
All pictures, quotes, and videos belong to their respective owners. I use them here solely for the purpose of review and commentary.