This was the year that I really found and got interested in watching Booktube. This increased my exposure to new books by an insane amount. I couldn't be more thankful for it because I am finding new books and reading more genres than ever before.
Below are some of the authors that, while I might have heard of before, I really discovered by picking up their works and really delving into their worlds.
Sarah J. Maas, author of the Throne of Glass series
This was one of the first authors that I really discovered when entering this crazy bookish world. I only read Throne of Glass recently and am very much obsessed with that world now.
Leigh Bardugo, author of the Grisha trilogy and Six of Crows
Another author who has a few books out so at least I have some works to catch up on! I started
Shadow & Bone
when it was on sale on my Kindle and I've fallen in love with the characters and the world within it. I can't wait to read more, especially now that
Six of Crows
has been released.
Maggie Stiefvater, author of The Raven Cycle and The Wolves of Mercy Falls
I started reading The Raven Boys. Then my husband picked it up. Now we're both reading our way through the series. There aren't a lot of authors that make us want to read their books together, so that definitely gives Maggie more points in my book.
Kiera Cass, author of The Selection series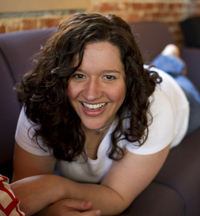 A lot of the books I read are heavy emotionally. There is a lot to love about
The Selection
, but what I love most is that it doesn't make me cry when I'm done reading it. I think Kiera's writing is lovely and just the right thing when I need to take it easy. I'm glad to have read her books so far and that I made it to the fandom in time for the last half of the series.
Patrick Ness, author of the Chaos Walking series and A Monster Calls
And here is an author that writes just what I was talking about in the last bit.
The Knife of Never Letting Go
, the first book in the
Chaos Walking
trilogy, is a good book so far, but it bears down on you as you write. You really feel the pressure that the world is succumbing to.
A Monster Calls
is a spooky tale that bears down on you as well, as any good creepy read should. Glad to have found this good sir, as his books are there for when you need something with meat on its bones.
All pictures, quotes, and videos belong to their respective owners. I use them here solely for the purpose of review and commentary.