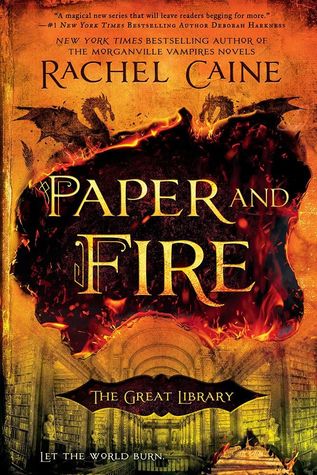 In Ink and Bone, New York Times bestselling author Rachel Caine introduced a world where knowledge is power, and power corrupts absolutely. Now, she continues the story of those who dare to defy the Great Library—and rewrite history…



With an iron fist, The Great Library controls the knowledge of the world, ruthlessly stamping out all rebellion, forbidding the personal ownership of books in the name of the greater good.





Jess Brightwell has survived his introduction to the sinister, seductive world of the Library, but serving in its army is nothing like he envisioned. His life and the lives of those he cares for have been altered forever. His best friend is lost, and Morgan, the girl he loves, is locked away in the Iron Tower and doomed to a life apart.





Embarking on a mission to save one of their own, Jess and his band of allies make one wrong move and suddenly find themselves hunted by the Library's deadly automata and forced to flee Alexandria, all the way to London.





But Jess's home isn't safe anymore. The Welsh army is coming, London is burning, and soon, Jess must choose between his friends, his family, or the Library willing to sacrifice anything and anyone in the search for ultimate control…
Rating: 3.5 Stars
I received a free copy of this book from NetGalley in exchange for an honest review.
If
Ink and Bone
introduced us to a fantastic world that had us on the edge of our seats in wonder, then
Paper and Fire
had us fully out of them and on the run.
There are a great many terrifying images in this book that range from the loss of friends to the burning of books (any bibliophile's nightmare) to being hunted by automatons.
At every turn there's something else for the characters to worry about. There's a lot of action packed into a very short period of time, which makes it a bit of a whirlwind to follow. There's more of the book's world to see here and seeing it through the eyes of Jess and his friends while they're dealing with the sheer amount of chaos and adrenaline that must be rushing through their brains is a roller coaster reading experience.
The ending was a bit of a shocker for me and almost makes me sad that I read this book early because that makes it feel like I have to wait just that much longer for the third book in the series. I can't wait to see it and experience another story in the world of the Great Library, all powerful and frightening as they are.
As a special treat from the publisher, I'm giving away a trade paperback edition of
Ink and Bone
, the first book in the
Great Library
series. If you haven't had a chance to read it or
Paper and Fire
yet, please feel free to enter!
Just an aside, as it will be shipped directly from the publisher, it is limited to US entries only.
a Rafflecopter giveaway
All pictures, quotes, and videos belong to their respective owners. I use them here solely for the purpose of review and commentary.