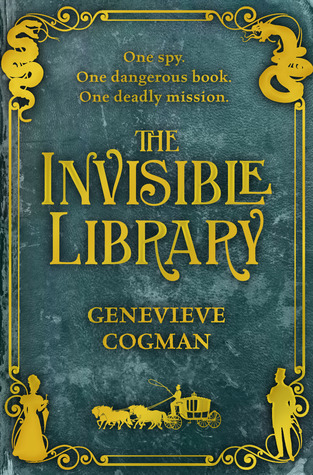 The first installment of an adventure featuring stolen books, secret agents and forbidden societies - think Doctor Who with librarian spies!



Irene must be at the top of her game or she'll be off the case - permanently...



Irene is a professional spy for the mysterious Library, which harvests fiction from different realities. And along with her enigmatic assistant Kai, she's posted to an alternative London. Their mission - to retrieve a dangerous book. But when they arrive, it's already been stolen. London's underground factions seem prepared to fight to the very death to find her book.





Adding to the jeopardy, this world is chaos-infested - the laws of nature bent to allow supernatural creatures and unpredictable magic. Irene's new assistant is also hiding secrets of his own.





Soon, she's up to her eyebrows in a heady mix of danger, clues and secret societies. Yet failure is not an option - the nature of reality itself is at stake.
Rating: 4 Stars
I received a free copy of this book from NetGalley and the publisher in exchange for an honest review.
The Invisible Library
is one of those books that a bookworm looks for, dreams about finding, and can spend an evening reading only to want to pick it back up immediately upon finishing and starting over again.
Irene is a spy for the Library who gets to travel through time, space, and dimensions to find books that are specific to a time, place, or reality. It can be a grand adventure that involves magic in varying levels, from barely there all the way up to DRAGONS. Who doesn't want to be a time traveling librarian with the possibility of hanging out with dragons?
I thought that the premise alone sounded promising and I'm glad that I picked this book up. The summary likened this book to Doctor Who and I can definitely see the appeal to fans of that show (I am one myself). I think it would also appeal to fans of the Thursday Next and Harry Potter books. The worlds/realities are filled with the magic/science fiction appeal of the previously mentioned titles, but there's a bit more in-depth thought needed when dealing with the chaos infestations and specifications.
Irene was a bold character that had a lot of strength in her without being too brash. She is a Librarian because her parents were. She seems to enjoy her fate as best as anyone can and does her job pretty damn well, I think. She doesn't let the tedium of an assignment get in the way of her completing the job and getting her man (or book, as the case is).
The writing was a good pace. I wouldn't say it was the fastest going story I've ever read, but I think that worked in this instance. Rather than rushing through the story and hurrying past something important, Genevieve Cogman took her time and let us figure out Irene's world and what it entailed. She found a good balance between finding things out for ourselves and showing us what we needed to know as we needed it.
There are two more books in Irene's adventures thus far and I cannot stress enough how glad I am that they are already published. These are stories that are begging to be read and read quickly.
All pictures, quotes, and videos belong to their respective owners. I use them here solely for the purpose of review and commentary.