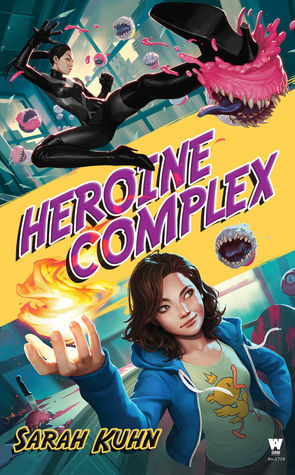 Being a superheroine is hard. Working for one is even harder.



Evie Tanaka is the put-upon personal assistant to Aveda Jupiter, her childhood best friend and San Francisco's most beloved superheroine. She's great at her job—blending into the background, handling her boss's epic diva tantrums, and getting demon blood out of leather pants.





Unfortunately, she's not nearly as together when it comes to running her own life, standing up for herself, or raising her tempestuous teenage sister, Bea.





But everything changes when Evie's forced to pose as her glamorous boss for one night, and her darkest comes out: she has powers, too. Now it's up to her to contend with murderous cupcakes, nosy gossip bloggers, and supernatural karaoke battles—all while juggling unexpected romance and Aveda's increasingly outrageous demands. And when a larger threat emerges, Evie must finally take charge and become a superheroine in her own right... or see her city fall to a full-on demonic invasion.
Rating: 4 Stars
I received a free copy of this book from NetGalley in exchange for an honest review.
This book was an awesome combination of comic book hilarity, anime zaniness, and a touch of uniqueness that Sarah Kuhn brings to the table.
I can easily imagine this story in any medium and would love to see it grow from it's initial incarnation: this hilarious, fun, fast pace adventure that brought a smile to my face in all the right places.
Evie is the personal assistant to a super heroine who is much put upon. I think any personal assistant is, but boy does Evie have her work cut out for her. Scrubbing demon cupcake goo out of leather? Out of the hardwood floors in their San Francisco home/headquarters? Man does she have it rough, but she has it all in hand. She's brilliant, strong in more ways than one, and doesn't let anything stop her, even personal difficulties. Evie is an admirable kind of girl and watching her handle everything in this book, from demons to her boss to her sister and more, was entertaining, bewildering, and more.
Under different circumstances, Aveda might have been a terrible character that I could easily hate and wish harm upon. However, Sarah Kuhn made her sympathetic and explained a lot about her character. While she still had a few moments that made me kind of want to smack her, they were ordinary moments and not over the top. Aveda made the best of a weird, bad situation and built up this cool new persona. There's a lot of pressure behind doing that, but she's doing it to protect her people, regardless of what the gossip mags say about her.
This is a great story for fans of the superhero genre in any incarnation: movies, comics, etc. It has a cool view into the behind the scenes set up of being a superhero in the modern age: managing your brand, dealing with reporters head on, etc. I highly recommend this for fans of fun, snarktastic super heroines, their sidekicks, and all that that entails.
All pictures, quotes, and videos belong to their respective owners. I use them here solely for the purpose of review and commentary.