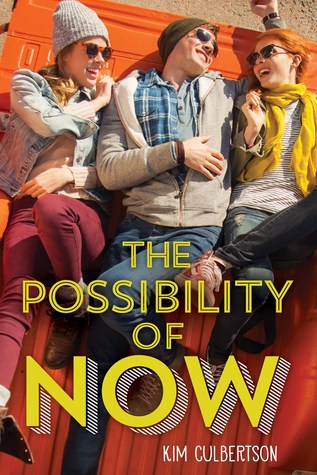 Mara James has always been a perfectionist with a plan. But despite years of overachieving at her elite school, Mara didn't plan on having a total meltdown during her calculus exam. Like a rip-up-the-test-and-walk-out kind of meltdown. And she didn't plan on a video of it going viral. And she definitely didn't plan on never wanting to show her face again.

Mara knows she should go back, but suddenly she doesn't know why she's been overachieving all these years. Impulsively, she tells her mom she wants to go live with her estranged dad in Tahoe. Maybe in a place like Tahoe, where people go to get away from everyday life, and with a dad like Trick McHale, a ski bum avoiding the real world, Mara can figure things out.

Only Tahoe is nothing like she thought. There are awesome new friends and hot boys and a chance to finally get to know Trick, but there is also still massive amounts of schoolwork. Can Mara stopping planning long enough to see the life that's happening right now?
I received a free copy of this book from Edelweiss in exchange for a honest review
.
Rating: 3.75 Stars
I think this book is one of those that you'll appreciate as a standalone story, but you'll appreciate it much more if you're someone who is into skiing, snowboarding, etc.
I was mainly interested in this book because I thought that witnessing Mara's academic "difficulties" and her handling them would make for a good read. They did and I was pleased to see how things worked out in the end.
The skiing atmosphere was different from anything I've read. I've never really read any books that involve winter sports (except for figure skating), so the introduction into that world was cool. It was a bit heavy handed and slow at times, which is why I think if you know a bit about that culture going in, you'll be better off.
One of the main points of Mara going to Tahoe, at least according to her Now list, is to get to know her father. I didn't get that kind of development in the story. They don't interact much, even though they're living together in a small cottage, and the only time you learn something of real significance from Trick himself is near the end of the story. It wasn't fulfilling. Even after you find out the reasons why Trick has been largely absent from Mara's life, I was left wondering why this seemed like it was supposed to be a big deal when the conclusion fell flat.
The romance aspect was a bit unusual, but I found myself kind of liking it by the end.
At the beginning of the story you think it'll end up with Mara dating one guy, then towards the middle it looks like it could be either one of them, and by the end it's the guy you thought it would be, but the road there was full of misunderstandings. Usually I hate it when a relationship gets built up only to be destroyed by stupid misunderstandings, but that didn't happen here. Things were worked through and neither party was as much of a jerk as I would've expected.
I was pretty happy with the ending. It didn't end as neatly as you might have expected from a contemporary YA novel, though it did backtrack a little in the "second ending" and make things happy(er).
Music Recommendation - Ain't It Fun by Paramore
Mara learns to loosen up and find what really matters to her during the course of the story. This song really spoke to that feeling, I think: find yourself and have fun!
All pictures, quotes, and videos belong to their respective owners. I use them here solely for the purpose of review and commentary.