Waiting on Wednesday is a weekly meme hosted by Jill at Breaking the Spine. Please check her blog out as she has good choices weekly and you can share your WoW link as well as view others.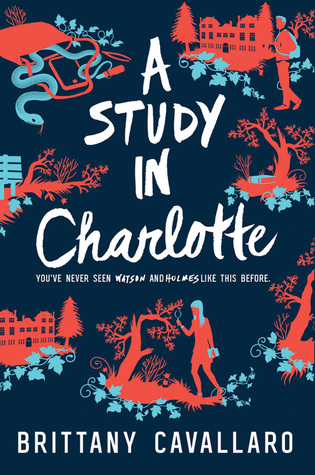 The last thing sixteen-year-old Jamie Watson–writer and great-great-grandson of the John Watson–wants is a rugby scholarship to Sherringford, a Connecticut prep school just an hour away from his estranged father. But that's not the only complication: Sherringford is also home to Charlotte Holmes, the famous detective's enigmatic, fiercely independent great-great-granddaughter, who's inherited not just his genius but also his vices, volatile temperament, and expertly hidden vulnerability. Charlotte has been the object of his fascination for as long as he can remember–but from the moment they meet, there's a tense energy between them, and they seem more destined to be rivals than anything else.

Then a Sherringford student dies under suspicious circumstances ripped straight from the most terrifying of the Holmes stories, and Jamie and Charlotte become the prime suspects. Convinced they're being framed, they must race against the police to conduct their own investigation. As danger mounts, it becomes clear that nowhere is safe and the only people they can trust are each other.
I love Sherlock stories. I have yet to read all the original tales as there are so many, but the ones I have have been truly special. I like spin-offs or retellings and seeing one where the leads are descended from the legendary duo of Holmes & Watson is enough to get me very excited.
What I'm curious to see, as I've not heard a lot of information about this title, is what the time period it is taking place in. Sherlock stories were Victorian England, I believe, and if Charlotte is his great-great-granddaughter, that would put this in either modern times or just before? What will solving crimes be like in this day and age of police work?
Luckily I won't have long to wait as this title is set to be released on 1 March. Just a few short weeks now!