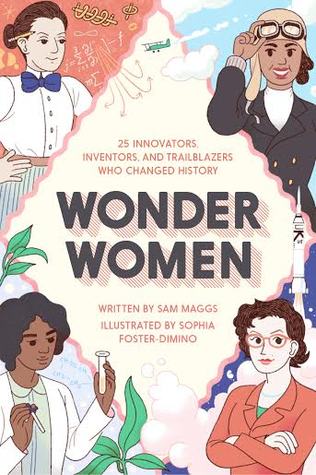 Ever heard of Allied spy Noor Inayat Khan, a Muslim woman whom the Nazis considered "highly dangerous"? Or German painter and entomologist Maria Sibylla Merian, who planned and embarked on the world's first scientific expedition? How about Huang Daopo, the inventor who fled an abusive child marriage only to revolutionize textile production in China?

Women have always been able to change the world, even when they didn't get the credit. In Wonder Women, author Sam Maggs introduces you to pioneering female scientists, engineers, mathematicians, adventurers, and inventors—each profile a study in passion, smarts, and stickto-itiveness, complete with portraits by Google doodler Sophia Foster-Dimino, an extensive bibliography, and a guide to present-day women-centric STEM organizations.
Rating: 4 Stars
I received a free copy of this book from NetGalley in exchange for an honest review.
There were few people in this book that I had heard of before I picked it up. Ada Lovelace? Sure. She's one of the earliest computer programmers. Other than that, no one sounded familiar and that is a crying shame. All of the women in this book did such amazing and mind bending things, but did not get the recognition they deserved.
Sam Maggs, author of The
Fangirl's Guide to the Galaxy
, did her best to bring attention to a wide range of women whose accomplishments were largely unrecognized in their time due to their gender and continue to be less recognized than their male counterparts. Maggs pulls from a variety of fields for this work, most notably the sciences (chemistry & physics). Her enthusiasm for shining the spotlight on these people is catching and I think that
Wonder Women
is a good introductory work.
The book is simply too short to go in-depth on these women and their works to get more than a superficial understanding of how imposing of them are. Some are obvious (Marie Curie and radiation, Rosalind Franklin and DNA), but other women mentioned are gone over so quickly I don't actually know what they've done to merit a spot in the book. Case in point: Marie M. Daly was the first Black American woman to receive a doctorate in chemistry. Aside from a few paragraphs explaining that she went through school well and quickly, you don't know what she did in her field. Did she make any discoveries? Make any advancements in her field?
If you're looking for a good source for women in S.T.E.M. fields that need more recognition, this is a book that is an easily accessible stepping stone into that journey. There's also chapters on women involved in espionage, adventure, and innovation. From medicine to rocket science to mountaineers, there's something for everyone and I'm implore you to not only read this book, but look more into the lives and works of the women mentioned. They deserve that much.
All pictures, quotes, and videos belong to their respective owners. I use them here solely for the purpose of review and commentary.