I'm not sure that Ron would be a big reader. Sometimes tells him he'd leave that more to Hermione, but in case he got the notion to pick something up, here's a few suggestions I think he might like.
1. The Complete Grimm's Fairy Tales
Ron seems so excited in
Deathly Hallows
when he talks about Beedle the Bard and surprised when he realizes that neither Hermione nor Harry have ever heard of them.
These fairy tales were my childhood and I think that Ron ought to read them and get a perspective on what Muggle fairy tales are like.
2. Fables: Legends in Exile by Bill Willingham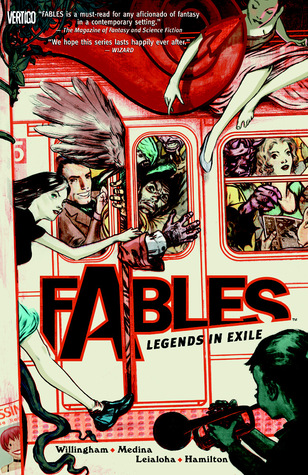 Once Ron's caught up with what I think is the most important volume of fairy tales in the world, he might like to check out an interpretation of the classics.
3. Storm Front by Jim Butcher
Why not have Ron start reading a series about an American wizard? The wizard politics might also be interesting to him.
4. Chew by John Layman
A cool, visceral comic would be just the thing to get Ron into a more unsettling visual format and the humor as well would sway him toward this series.