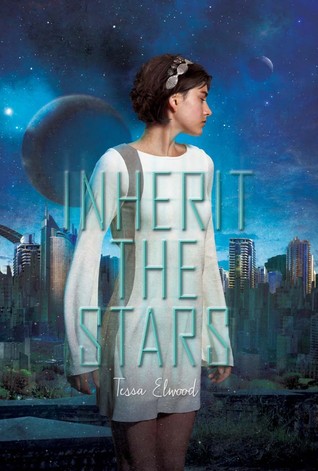 Three royal houses ruling three interplanetary systems are on the brink of collapse, and they must either ally together or tear each other apart in order for their people to survive.

Asa is the youngest daughter of the house of Fane, which has been fighting a devastating food and energy crisis for far too long. She thinks she can save her family's livelihood by posing as her oldest sister in an arranged marriage with Eagle, the heir to the throne of the house of Westlet. The appearance of her mother, a traitor who defected to the house of Galton, adds fuel to the fire, while Asa also tries to save her sister Wren's life . . . possibly from the hands of their own father.

But as Asa and Eagle forge a genuine bond, will secrets from the past and the urgent needs of their people in the present keep them divided?
I received an ARC of this book from NetGalley in exchange for an honest review.
Rating: 4 Stars
From the description, this book sounded like it would be heavy and complicated, what with all the interplanetary problems that are hinted at. While there were a whole host of difficulties and it was a bit clunky at times, I found this book to be very cool.
Even with minimal world building I got sucked into the conflict that is surrounding Asa as her story begins. There are clues to just how bad things are and how long they've been that way. I would have enjoyed hearing more about the history of the Triplicate (the grouping of Three Houses and their planets).
From the first page you're thrown into battle and feel the intense fear that Asa has, not only for her people, but for herself and her sister as well.
Asa's motives for what she does in order to save her family are clear, but what I'd like to have found out is why she's done half the things she's done. I mean, why does Wren mean so much to her rather than Emmie, her middle sister?
I felt like I ought to hate Lord and Lady Westlet, but I could understand how things looked from their side, which is unusual. Normally I'd expect to be lead one way or the other in terms of House allegiance, but I got them as characters. The twists that appear in the form of other characters from the past popping up had me on the edge of my seat, waiting to see where this new plot line was going to lead.
Sometimes Asa seemed a lot younger than I thought she was meant to be. Some parts of the novel that were describing her feelings toward Eagle and toward the whole arrangement felt like the diary of a pre-teen. These parts moved by quickly, though, so we could get back to the main plot which only got more treacherous for Asa as time wore on.
For all the slow bits, as I mentioned they do move quickly and I found myself at the end of the story within short order which infuriated me because I don't know when book two is coming out!
Music Recommendation
Granted, the video doesn't really fit with the original anime it's from or this book, but the lyrics and the feeling I got from the music really made me think of Asa and Eagle and their situation throughout the book, even before they meet one another.
This song is
I'm Alive
by Becca; it's the ending for the anime
Black Butler
.