Top 10 Tuesday is a weekly feature that was created by The Broke and the Bookish.
My tbr is an ever growing monster, as I am sure a lot of you can understand. Every day I see a new possibility on Twitter or Goodreads and I can't help but add it to my list. This means my tbr will likely never stop growing, but for the moment, these are the top 10 book most recently added to that list.
The list is numbered 1-10, going in order from the most recently added book onward. I have skipped titles that are mini novellas, such as the
The Wrath & the Dawn
stories that were announced recently.
1. Assassin's Heart by Sarah Ahiers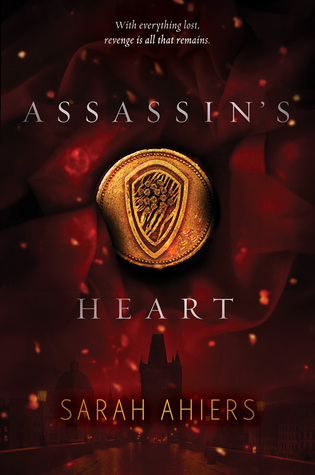 In the kingdom of Lovero, nine rival Families of assassins lawfully kill people for a price. As a highly skilled member of one of these powerful clans, seventeen-year-old Lea Saldana has always trusted in the strength of her Family. Until she awakens to find them murdered and her home in flames. The Da Vias, the Saldanas' biggest enemy, must be responsible—and Lea should have seen it coming. But her secret relationship with the Da Vias' son, Val, has clouded her otherwise killer instinct—and given the Da Vias more reason than ever to take her Family down.

Racked with guilt and shattered over Val's probable betrayal, Lea sets out to even the score, with her heart set on retaliation and only one thought clear in her mind: make the Da Vias pay.
2. Reign of Shadows by Sophie Jordan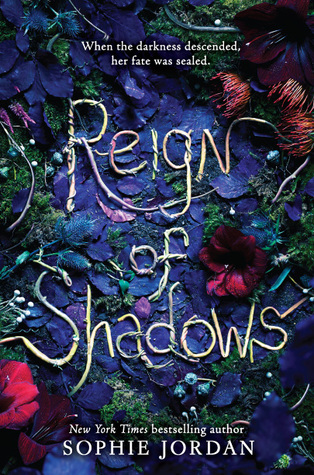 Seventeen years ago, an eclipse cloaked the kingdom of Relhok in perpetual darkness. In the chaos, an evil chancellor murdered the king and queen and seized their throne. Luna, Relhok's lost princess, has been hiding in a tower ever since. Luna's survival depends on the world believing she is dead.

But that doesn't stop Luna from wanting more. When she meets Fowler, a mysterious archer braving the woods outside her tower, Luna is drawn to him despite the risk. When the tower is attacked, Luna and Fowler escape together. But this world of darkness is more treacherous than Luna ever realized.

With every threat stacked against them, Luna and Fowler find solace in each other. But with secrets still unspoken between them, falling in love might be their most dangerous journey yet.
3. Six Feet Over It by Jennifer Longo
No one is more surprised than Leigh when her father buys a graveyard. Less shocking is the fact that he's too lazy to look farther than the dinner table for employees. Working the literal graveyard shift, she becomes great at predicting headstone choice (mostly granite) and taking notes with one hand while offering Kleenex with the other.

Sarcastic and smart, Leigh should be able to quit this stupid after-school job. But her world's been turned upside down by the sudden loss of her best friend and the appearance of Dario, the slightly-too-old-for-her gravedigger. Can Leigh move on, if moving on means it's time to get a life?
4. And Again by Jessica Chiarella
Would you live your life differently if you were given a second chance? Hannah, David, Connie, and Linda—four terminally ill patients—have been selected for the SUBlife pilot program, which will grant them brand-new, genetically perfect bodies that are exact copies of their former selves—without a single imperfection. Blemishes, scars, freckles, and wrinkles have all disappeared, their fingerprints are different, their vision is impeccable, and most importantly, their illnesses have been cured.

But the fresh start they've been given is anything but perfect. Without their old bodies, their new physical identities have been lost. Hannah, an artistic prodigy, has to relearn how to hold a brush; David, a Congressman, grapples with his old habits; Connie, an actress whose stunning looks are restored after a protracted illness, tries to navigate an industry obsessed with physical beauty; and Linda, who spent eight years paralyzed after a car accident, now struggles to reconnect with a family that seems to have built a new life without her. As each tries to re-enter their previous lives and relationships they are faced with the question: how much of your identity rests not just in your mind, but in your heart, your body?
5. Followed by Frost by Charlie N. Holmberg
After 17-year-old Smitha is cursed to be as cold as her heart, Death himself offers her a chance for relief. Unwilling to give up her life, Smitha seeks redemption deep in the savage deserts, where her perpetual winter dares to make her a hero.
6. Magic Bitter, Magic Sweet by Charlie N. Holmberg
7. The Magician's Land by Lev Grossman
Quentin Coldwater has been cast out of Fillory, the secret magical land of his childhood dreams. With nothing left to lose, he returns to where his story began, the Brakebills Preparatory College of Magic, but he can't hide from his past, and it's not long before it comes looking for him.

Along with Plum, a brilliant young undergraduate with a dark secret of her own, Quentin sets out on a crooked path through a magical demimonde of gray magic and desperate characters. But all roads lead back to Fillory, and his new life takes him to old haunts, like Antarctica, and to buried secrets and old friends he thought were lost forever. He uncovers the key to a sorcery masterwork, a spell that could create magical utopia, and a new Fillory--but casting it will set in motion a chain of events that will bring Earth and Fillory crashing together. To save them he will have to risk sacrificing everything.
8. The Magician King by Lev Grossman
Quentin and his friends are now the kings and queens of Fillory, but the days and nights of royal luxury are starting to pall. After a morning hunt takes a sinister turn, Quentin and his old friend Julia charter a magical sailing ship and set out on an errand to the wild outer reaches of their kingdom. Their pleasure cruise becomes an adventure when the two are unceremoniously dumped back into the last place Quentin ever wants to see: his parent's house in Chesterton, Massachusetts. And only the black, twisted magic that Julia learned on the streets can save them.

The Magician King is a grand voyage into the dark, glittering heart of magic, an epic quest for the Harry Potter generation. It also introduces a powerful new voice, that of Julia, whose angry genius is thrilling. Once again Grossman proves that he is the cutting edge of literary fantasy.
9. Chain of Thorns by Cassandra Clare
The Last Hours is a new Shadowhunters series set in 1903. It deals with the next generation after Will, Tessa and Jem as well as Charlotte and Henry's children, Tatiana Blackthorn's children, the Lightwood kids, and many more. 1903 is right around the time the Victorian era tips over into the Edwardian era — beautiful clothes, fabulous history and so much more that I'm excited to write about!

The title is taken from the book Great Expectations, of which the series is a retelling: those of you who've read The Midnight Heir installment of the Bane Chronicles probably have some ideas about certain of the characters!

There will be three books: Chain of Thorns, Chain of Gold, and Chain of Iron — also a reference to Great Expectations.

The books will interconnect with The Dark Artifices trilogy as two separate trilogies that are also the stories of the Blackthorns, Herondales and Carstairs, much like TMI and The Infernal Devices interconnected despite taking place in different time periods and locations.
10. Furthermore by Tahareh Mafi
here are only three things that matter to twelve-year-old Alice Alexis Queensmeadow: Mother, who wouldn't miss her; magic and color, which seem to elude her; and Father, who always loved her. The day Father disappears from Ferenwood he takes nothing but a ruler with him. But it's been almost three years since then, and Alice is determined to find him. She loves her father even more than she loves adventure, and she's about to embark on one to find the other.

But bringing Father home is no small matter. In order to find him she'll have to travel through the mythical, dangerous land of Furthermore, where down can be up, paper is alive, and left can be both right and very, very wrong. Her only companion is a boy named Oliver whose own magical ability is based in lies and deceit—and with a liar by her side in land where nothing is as it seems, it will take all of Alice's wits (and every limb she's got) to find Father and return home to Ferenwood in one piece. On her quest to find Father Alice must first find herself—and hold fast to the magic of love in the face of loss.
All pictures, quotes, and videos belong to their respective owners. I use them here solely for the purpose of review and commentary.