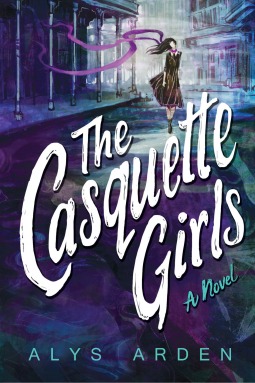 Seven girls tied by time.
Five powers that bind.
One curse to lock the horror away.
One attic to keep the monsters at bay.
* * *
After the storm of the century rips apart New Orleans, sixteen-year-old Adele Le Moyne wants nothing more than her now silent city to return to normal. But with home resembling a war zone, a parish-wide curfew, and mysterious new faces lurking in the abandoned French Quarter, normal needs a new definition.
As the city murder rate soars, Adele finds herself tangled in a web of magic that weaves back to her own ancestors. Caught in a hurricane of myths and monsters, who can she trust when everyone has a secret and keep them can mean life or death? Unless...you're immortal.
I received this ARC from the publisher via NetGalley in exchange for an honest review
.
Rating: 4 Stars
Characters
One of my favorite things about this book was the characterization, particularly of Adele Le Moyne. She was not what I have become used to in a typical YA main female character. In the paranormal/horror genre novels I have read, they have tended to be like the girls you would see in a horror movie: over excited, dim, and Dora the Explorer (let's explore the creepy abandoned house with unknown sounds!). Adele had a few moments when she was veering toward this kind of person, but on the whole I found her to be intelligent and relateable.
With the tone of New Orleans set, with the legends of the ghosts, witches, vampires, etc. throughout the city, it was not too long before I started looking at the other characters Adele met with something of a suspicious eye. Each one had something about them that added to the mystery of the story and caused me to wonder who they were, and in some cases, what they were. Here's looking at you, Nicco.
Pacing
The pacing of this novel was fantastic, something I've been looking for more and more in books. The author took the time to get you intertwined with the characters. You find the story winding its way into your mind like a fog settling over the city: it's there before you realize it.
Setting
The pacing of this novel was fantastic, something that I've been looking for more and more in books. You get swept up in the story and the character known as setting.
The Casquette Girls
takes place in New Orleans following the worst Storm is has ever been through, a combination of all the bad hurricanes in history. You really get a feel for this town and for the experience the residents are going through, rebuilding their beloved town. There is so much history in the French Quarter and I wish I could say I'd read more books set in in.
The Ending
It would be difficult to summarize my feelings for the end of The Casquette Girls and my need for The Romeo Catchers (The Casquette Girls #2) but I can try:
WANT!!! NEED!!!
Unfortunately there is not a release date yet for the next book, though I think that it is meant to come out sometime next year, 2016? That is one of the few bad sides to finding such a fantastic and fun novel to read that turns out to be one of a series: if you read it too quickly, you have just that much more time before the next book comes out.
Bearing that in mind, you should definitely pick this up if a paranormal story is along your wavelength. It was on the high end of the scale for me as a YA paranormal book because it didn't succumb to the cliches that you sometimes see. I'd almost say that if you normally veer away from YA paranormal but enjoy adult paranormal, you should still give The Casquette Girls a shot. If any book could change your mind, it would be this one.
Music Recommendation
Nightwish is a band was brought up in my recommended Youtube videos and I think a great many of their songs would make a wonderful soundtrack for this book. My favorites are:
The Islander
Over the Hills and Far Away
The overall feel of this band: the instruments, the singing voices, it is all just amazing. Their current songs could stand to play in the background for
The Casquette Girls
, but imagine for a moment if the author got together with them and wrote songs specifically for the book? Be still my heart, that would be an album I would buy so fast!
All pictures, quotes, and videos belong to their respective owners. I use them here solely for the purpose of review and commentary.