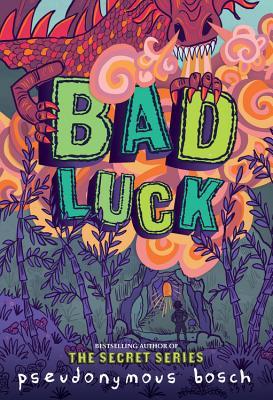 At Earth Ranch, things can get a little magical (some might say strange). Intrepid readers will discover a runaway boy, fishy cruise ship, strange cave paintings, dragon-like footprints, and other mysteries that Clay and his friends need to solve. Danger, adventure, mischief, mystery, llamas, and a delightfully irreverent and hilarious narrator make bestselling author Pseudonymous Bosch's anticipated new novel irresistible.
I received a free copy of this book from NetGalley in exchange for a honest review.
Rating: 4 Stars
I did not realize that Pseudonymous Bosch had written a "sequel" series to The Secret Series, which is where I first encountered his writing. I was very happy to find this book on NetGalley and hastened to request it.
At first I didn't realize that this was the second book in the series, but I think that was good because even though it was the second book, I didn't feel lost. I'll be going back now, of course, to read it, but I like it when you can slip into a book as if you belong there, as if you'd visited before and come back to find it feeling like you never left.
I never felt bored reading this book. There was so much going on, but it wasn't too much. There were secrets, surprises, mysterious goings on, etc. Some of the events seemed rather fantastical, events without explanation other than "that's the way it is", which was a bit frustrating, but ultimately negligible. I found it easy enough to move on and accept the answer of simply this: magic.
Why, oh why, must there be a cliffhanger? I dislike them simply because it means I'm going to have to wait a good long time for the answers to all my questions, but in this case, I think it will give me time to go back and familiarize myself with the first book,
Bad Magic
.
Music Recommendation
When I was thinking about what it would be like to be at Earth Ranch, a freaking magic camp, I thought of this song (
Best Day of My Life
). I picked the Kidz Bop version on purpose because their version sounded like something I'd actually hear in the background if
Bad Luck
were a movie.
All pictures, quotes, and videos belong to their respective owners. I use them here solely for the purpose of review and commentary.