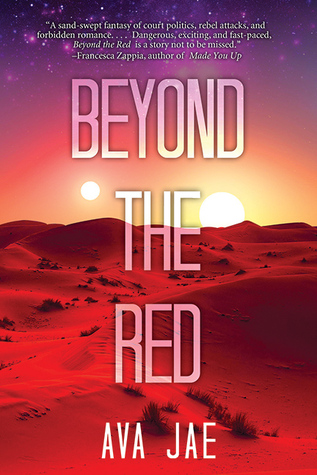 Alien queen Kora has a problem as vast as the endless crimson deserts. She's the first female ruler of her territory in generations, but her people are rioting and call for her violent younger twin brother to take the throne. Despite assassination attempts, a mounting uprising of nomadic human rebels, and pressure to find a mate to help her rule, she's determined to protect her people from her brother's would-be tyrannical rule.

Eros is a rebel soldier hated by aliens and human alike for being a half-blood. Yet that doesn't stop him from defending his people, at least until Kora's soldiers raze his camp and take him captive. He's given an ultimatum: be an enslaved bodyguard to Kora, or be executed for his true identity—a secret kept even from him.

When Kora and Eros are framed for the attempted assassination of her betrothed, they flee. Their only chance of survival is to turn themselves into the high court, where revealing Eros's secret could mean a swift public execution. But when they uncover a violent plot to end the human insurgency, they must find a way to work together to prevent genocide.
It's lovely to be hosting this week's Sunday Street Team event as it is my week to tell you all about
Beyond the Red
, a novel about space and alien queens and how secrets have a way of coming to the surface when you least expect them. Thank you for Nori, creator of the Sunday Street Team, for allowing me to present to you my review.
First, a bit about the author.
Ava Jae is a writer, an Assistant Editor at Entangled Publishing, and is represented by Louise Fury of The Bent Agency. Her YA Sci-Fi debut, BEYOND THE RED, is releasing March 2016 from Sky Pony Press. When she's not writing about kissing, superpowers, explosions, and aliens, you can find her with her nose buried in a book, nerding out over the latest X-Men news, or hanging out on her
blog
,
Twitter
,
Facebook
,
tumblr
,
Goodreads
,
Instagram
, or her
YouTube channel
.
Rating: 3.5 Stars
I received a free copy of this book from Edelweiss in exchange for an honest review.
If you're a fan of
The Winner's Trilogy
by Marie Rutkoski, then I think you'll like this book. It has a similar plot going in that there's one character who becomes a slave/servant to the other character.
Beyond the Red
has a different setting, though, and alien politics that turn the story into something different.
I had a good time with the plot. It was simple, sure, but it kept me engaged. I did find myself comparing it to other YA books at the time, but as in the case of when I read
Red Queen
and had the same feelings, I thought that there was enough in this book to make it unique while having similar elements to other enjoyable YA books.
I like the development of the two races in the book. The aliens brought a new culture to the book that unfolded and introduced us to their customs, which were not always palatable but gave them a sense of realism. As the humans were mostly the same in terms of looks and morals, it was easy to slip into the story and see things from their point of view.
One of the things that brought the book down a bit for me was that when I was finished, I was left feeling like it wasn't over. There were a lot of things that I wanted to know more about, questions that needed answers, etc. I think the author mentioned that there might be a sequel in the future, depending upon sales, so I hope that goes well for her since I would really like to hear more about Eros and Kora.
Giveaway
Now there's a chance for you to win a finished copy of
Beyond the Red
. I highly recommend filling out the Rafflecopter below and, even if you don't win, picking up a copy of this book at your local bookstore.
a Rafflecopter giveaway
All pictures, quotes, and videos belong to their respective owners. I use them here solely for the purpose of review and commentary.