Top 10 Tuesday is a weekly meme that is brought to us by The Broke & the Bookish. Check out the topic list here.
The biggest pitfall of blogging is that often you find yourself talking about the same books week after week. They're great books, why wouldn't you want to talk about them, especially when you know others like them too? The problem being is that the same books tend to be featured and we forget some of our other favorite titles.
Maybe they're from a genre you don't normally review or something like that. This week's TTT features books that I have loved in the past that, for one reason or another, don't get the attention they deserve. I hope you'll take a look at them and maybe even read them for yourself so that you can enjoy them too.
10. Yarn Harlot: The Secret Life of a Knitter by Stephanie Pearl-McPhee
Stephanie Pearl-McPhee's deepest wish is that everyone understand that knitting is at least as fun as baseball and way cooler than the evil looped path of crochet. Every project, from a misshapen hat to the most magnificent sweater, holds a story.

Yarn Harlot

tells all those stories with humor, insight, and sympathy for the obsessed.





Over 50 million people in America knit. The average knitter spends between $500 and $1,700 a year on yarn, patterns, needles, and books. No longer just a fad or a hobby, knitting has advanced to a lifestyle.





Yarn Harlot: The Secret Life of a Knitter

moves beyond instructions and patterns into the purest elements of knitting: obsession, frustration, reflection, and fun. Stephanie Pearl-McPhee's humorous and poignant essays find humor in knitting an enormous afghan that requires a whopping 30 balls of wool, having a husband with size 13 feet who loves to wear hand-knit socks, and earns her "yarn harlot" title with her love of any new yarn--she'll quickly drop an old project for the fresh saucy look of a new interesting yarn.





Since the upsurge in knitting began in the early '90s, the number of women under 45 who knit has doubled. Knitting is no longer a hobby for just grandmothers--women and men of all ages are embracing this art. Describing its allure is best left to Stephanie who explains: "It is a well-known fact that knitting is a sparkling form of entertainment, as spiritual as yoga, as relaxing as a massage, and as funny as Erma Bombeck trapped in a PTA meeting."
9. Mrs. Piggle-Wiggle by Betty MacDonald
Mrs. Piggle-Wiggle lives in an upside-down house and smells like cookies. She was even married to a pirate once. Most of all, she knows everything about children. She can cure them of any ailment. Patsy hates baths. Hubert never puts anything away. Allen eats v-e-r-y slowly. Mrs Piggle-Wiggle has a treatment for all of them.





The incomparable Mrs. Piggle-Wiggle loves children good or bad and never scolds but has positive cures for Answer-Backers, Never-Want-to-Go-to-Bedders, and other boys and girls with strange habits.
8. In Real Life by Cory Doctorow and Jenny Wang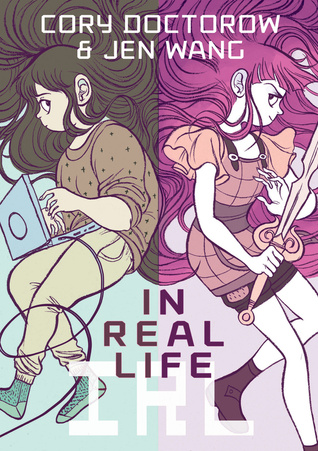 Anda loves Coarsegold Online, the massively-multiplayer role-playing game where she spends most of her free time. It's a place where she can be a leader, a fighter, a hero. It's a place where she can meet people from all over the world, and make friends.





But things become a lot more complicated when Anda befriends a gold farmer--a poor Chinese kid whose avatar in the game illegally collects valuable objects and then sells them to players from developed countries with money to burn. This behavior is strictly against the rules in Coarsegold, but Anda soon comes to realize that questions of right and wrong are a lot less straightforward when a real person's real livelihood is at stake.





From acclaimed teen author (

Little Brother

,

For the Win

) and Boing Boing editor Cory Doctorow and

Koko Be Good

creator Jen Wang,

In Real Life

is a perceptive and high-stakes look at adolescence, gaming, poverty, and culture clash.
7. The Sweetgum Knit Lit Society by Beth Pattillo
On the third Friday of each month, Eugenie, Ruth, Esther, Merry, and Camille meet at the Sweetgum Christian Church to enjoy the two things that connect them: a love of knitting and a passion for books. Their camaraderie remains unthreatened until Eugenie, the town librarian, introduces an angry teenager into their midst. Eugenie also gives them a new reading list: the classic novels of girlhood that young Hannah has never read.

Little Women. Pollyanna. Heidi.

Books that remind the women of the hopes and dreams they have lost along the way.





With each click of their needles, the ladies of the Knit Lit Society unravel their secrets: A shadow from Eugenie's past haunts the controlled order of her life. Merry's perfect little family is growing again–but will she continue to feel her identity slip away? Camille dreams of leaving town but is bound by ties of love. And the sisters, Ruth and Esther, must confront a lie they have lived with for over thirty years.





As Hannah is reluctantly stitched into their lives, the women discover the possibility that even in sleepy Sweetgum, Tennessee, they can still be the heroines of their own stories.
6. The Tale of Despereaux by Katie DiCamillo
A brave mouse, a covetous rat, a wishful serving girl, and a princess named Pea come together in Kate DiCamillo's Newbery Medal–winning tale.



Welcome to the story of Despereaux Tilling, a mouse who is in love with music, stories, and a princess named Pea. It is also the story of a rat called Roscuro, who lives in the darkness and covets a world filled with light. And it is the story of Miggery Sow, a slow-witted serving girl who harbors a simple, impossible wish. These three characters are about to embark on a journey that will lead them down into a horrible dungeon, up into a glittering castle, and, ultimately, into each other's lives. What happens then? As Kate DiCamillo would say: Reader, it is your destiny to find out.
5. Encyclopedia Brown by Donald J. Sobol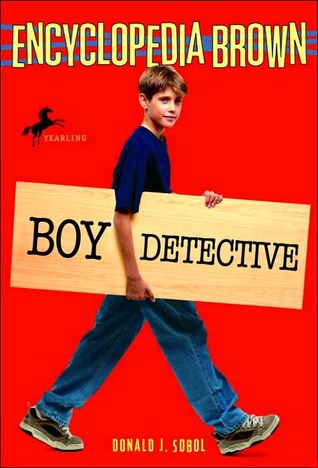 A Civil War sword...A watermelon stabbing...





Missing roller skates...





Atrapeze artist's inheritance...





And an eyewitness who's legally blind!





Theses are just some of the ten brain-twisting mysteries that Encyclopedia Brown must solve by using his famous computer-like brain. Try to crack the cases along with him--the answer to all the mysteries are found in the back!
4. The Velveteen Rabbit by Margery Williams
Nursery magic is very strange and wonderful, and only those playthings that are old and wise and experienced like the Skin Horse understand all about it.





Like the Skin Horse, Margery Williams understood how toys--and people--become real through the wisdom and experience of love. This reissue of a favorite classic, with the original story and illustrations as they first appeared in 1922, will work its magic for all who read it.
3. Awkward by Svetlana Chmakova
Cardinal rule #1 for surviving school: Don't get noticed by the mean kids.





Cardinal rule #2 for surviving school: Seek out groups with similar interests and join them.





On her first day at her new school, Penelope--Peppi--Torres reminds herself of these basics. But when she trips into a quiet boy in the hall, Jaime Thompson, she's already broken the first rule, and the mean kids start calling her the "nerder girlfriend." How does she handle this crisis? By shoving poor Jaime and running away!





Falling back on rule two and surrounding herself with new friends in the art club, Peppi still can't help feeling ashamed about the way she treated Jaime. Things are already awkward enough between the two, but to make matters worse, he's a member of her own club's archrivals--the science club! And when the two clubs go to war, Peppi realizes that sometimes you have to break the rules to survive middle school!
2. The Art of Asking by Amanda Palmer
Rock star, crowdfunding pioneer, and TED speaker Amanda Palmer knows all about asking. Performing as a living statue in a wedding dress, she wordlessly asked thousands of passersby for their dollars. When she became a singer, songwriter, and musician, she was not afraid to ask her audience to support her as she surfed the crowd (and slept on their couches while touring). And when she left her record label to strike out on her own, she asked her fans to support her in making an album, leading to the world's most successful music Kickstarter.





Even while Amanda is both celebrated and attacked for her fearlessness in asking for help, she finds that there are important things she cannot ask for-as a musician, as a friend, and as a wife. She learns that she isn't alone in this, that so many people are afraid to ask for help, and it paralyzes their lives and relationships. In this groundbreaking book, she explores these barriers in her own life and in the lives of those around her, and discovers the emotional, philosophical, and practical aspects of THE ART OF ASKING.





Part manifesto, part revelation, this is the story of an artist struggling with the new rules of exchange in the twenty-first century, both on and off the Internet. THE ART OF ASKING will inspire readers to rethink their own ideas about asking, giving, art, and love.
1. Blood and Chocolate by Annette Curits Klause
Vivian Gandillon relishes the change, the sweet, fierce ache that carries her from girl to wolf. At sixteen, she is beautiful and strong, and all the young wolves are on her tail. But Vivian still grieves for her dead father; her pack remains leaderless and in disarray, and she feels lost in the suburbs of Maryland. She longs for a normal life. But what is normal for a werewolf?





Then Vivian falls in love with a human, a meat-boy. Aiden is kind and gentle, a welcome relief from the squabbling pack. He's fascinated by magic, and Vivian longs to reveal herself to him. Surely he would understand her and delight in the wonder of her dual nature, not fear her as an ordinary human would.





Vivian's divided loyalties are strained further when a brutal murder threatens to expose the pack. Moving between two worlds, she does not seem to belong in either. What is she really—human or beast? Which tastes sweeter—blood or chocolate?
All pictures, quotes, and videos belong to their respective owners. I use them here solely for the purpose of review and commentary.